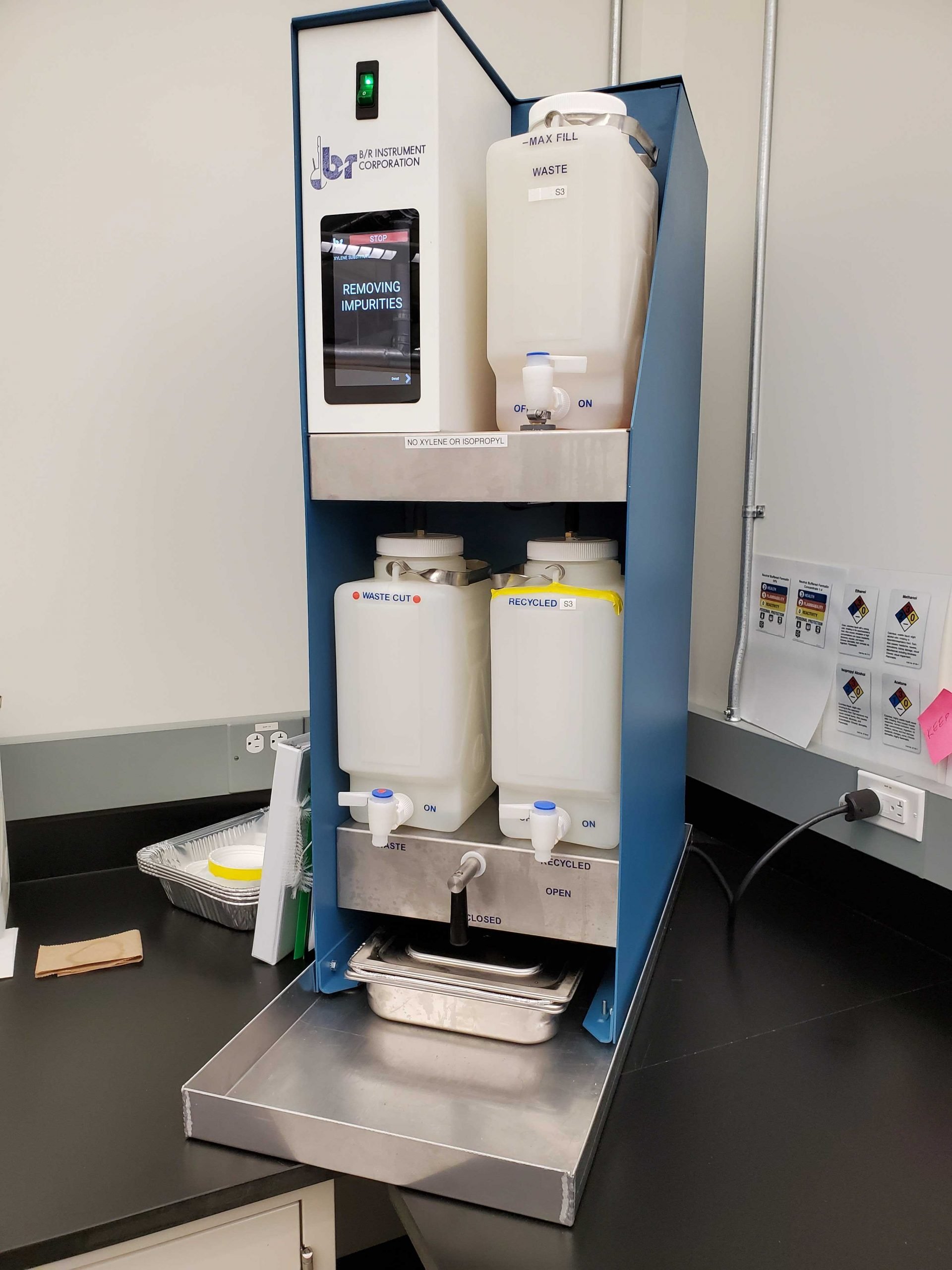 At SpecialtyVETPATH, we pride ourselves in being environmentally sustainable. 
We do a few things differently, such as:
We reuse packing material!

Plastic bags, slide holders, bubble wrap, and shipping envelopes that are clean and in good condition are saved and reused. 

We reuse larger formalin containers, and wash and recycle the smaller containers.

We make reagents last longer!

We use custom-ordered filtration systems to extend the life of our ethanol, isopropanol, and formalin, when appropriate. Weekly quality control is performed to ensure that we continue to deliver high quality pathology samples.

We recycle alcohol and xylene substitute!

In order to protect our employees and the environment, we have switched to a xylene substitute called S3 that is less toxic and more eco-friendly.

We recently set up a top-of-the-line alcohol distillation system, which we use to purify our ethanol and xylene substitute. 
To help us stay green, you can do the following:
Label plastic bags, plastic slide holders, and formalin containers, with alcohol-based permanent ink (Sharpie) or stickers that are easy to remove. This makes it easier to clean and reuse these supplies.

Please avoid writing on padded mailers, as they are more difficult to relabel and reuse. Padded mailers do not need to be glued or taped shut, the tab can simply be folded over, and the outer envelope will keep the sample inside the padded mailer. 

Reuse packing materials such as FedEx standard 8"x 8"x 8" boxes and bubble wrap. If reusing boxes, please completely remove or cover old shipping information to avoid shipping delays. Larger box sizes can be used, but ship at a higher rate. 

Request that we ship you supplies! We have a backstock of gently loved packing materials, formalin containers (filled with new or recycled formalin on request), and slide holders.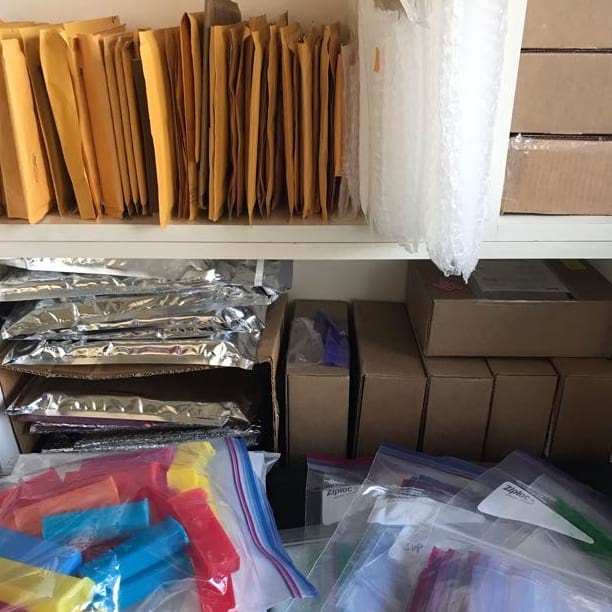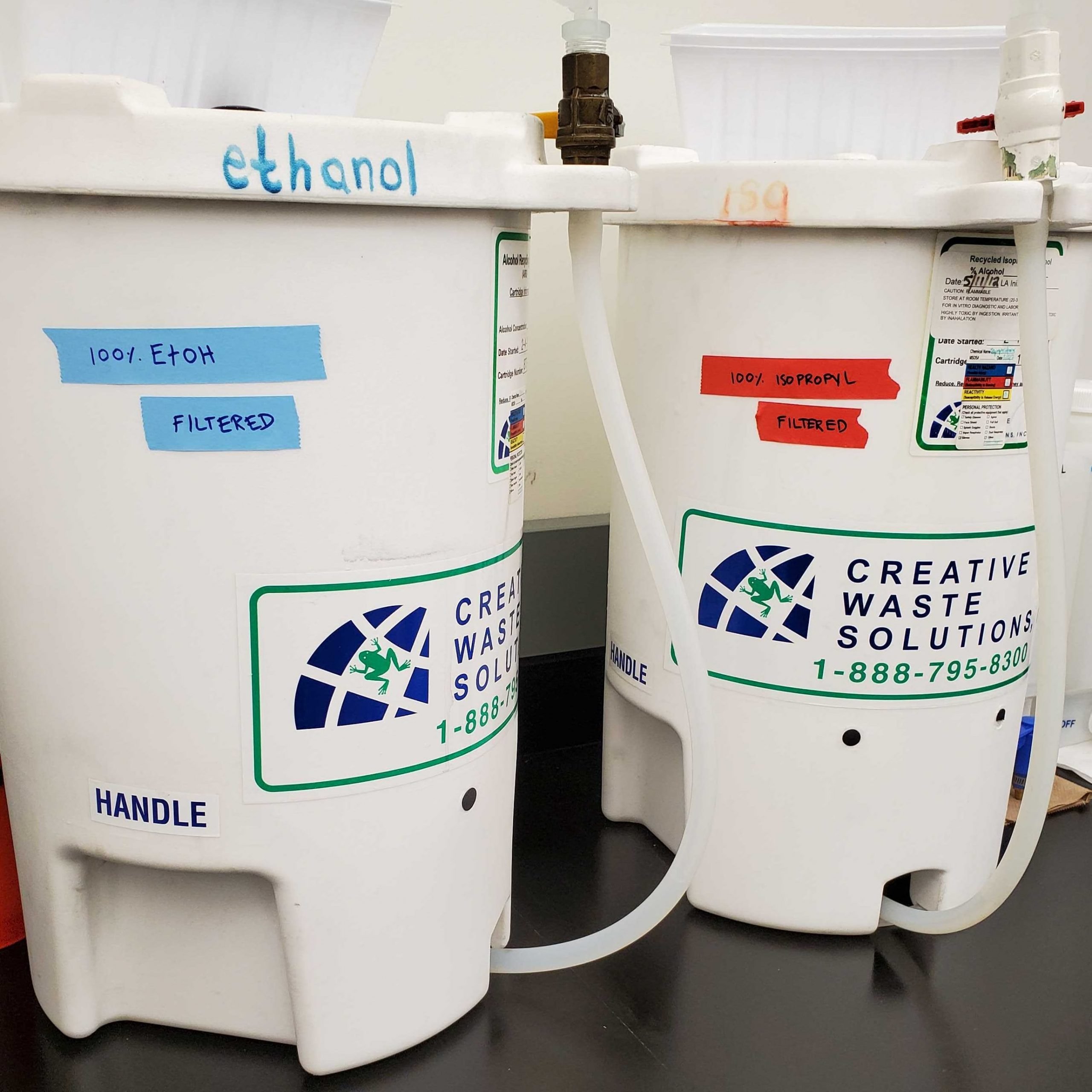 By the way, we're also a Washington State Envirostar business.
Need more tips on reducing the carbon footprint of your business? Here are a few little things we do and recommend:
Laminate commonly used forms and checklists so they can be reused instead of printing multiple copies.

Set your thermostat to a lower temperature at night and for the weekend.

Install battery-powered auto-shut off faucets to conserve water.

Set up a compost pick-up with your local waste service.

Reuse styrofoam coolers, and bring unusable coolers to the appropriate styrofoam recycling plant in your area.

Switch all of your single use batteries to rechargeable batteries. 

Supply durable, washable dishes for communal use.

Print non-confidential paperwork onto the back of paper that would otherwise be destined for the recycle bin. 
What do you do in your practice? We'd love to hear your ideas!